Rapid tooling is a combination of conventional tooling methods and rapid prototyping techniques to create molds faster. With this process, it cuts the time and the cost of producing a mold, ensuring that the product gets into production quicker and reach the market over its competition.
There are many types of rapid prototyping methods available in the market that can help the design team to perfect their product before reaching its customers. But among them, rapid tooling is the frequent choice because of its benefits.
It's no wonder why because this mold tooling technique is a great way to get the parts inexpensively and quickly. In other words, rapid tooling is the best for making fast and cost-effective molds. Want to know more why rapid tooling is the go-to technique? Read this article to find out.

The Advantages of Rapid Tooling
Before we go to the discussion of why rapid tooling is beneficial for different industries, let's take a look at the reason why it is essential.
It does not only create a product mold in quickly, but it also helps the designer to take things in the right direction. When the time between the initial design and the prototype is shorter, designers will have the opportunity to analyze it in a real environment. It will give them an idea if they have chosen the right material for the product and if certain parts are viable to serve its purpose.
One of the biggest challenges in production is when the design imperfection is discovered too late, when it is already in the production phase or when the mold is near its completion. Significant faults can have a substantial financial impact on the company. Rapid tooling helps address this issue as the design flaws can be detected earlier.
Lower Cost
The lower the cost of raw materials, the lower the production cost is. And if you are using these molds for your products, you can sell the products without sacrificing its quality and profit. There is a direct domino effect in using rapid tooling; your products can be more saleable to your customers. With cheaper but high-quality products, you can face your competitions and win.
Versatility
When you have an accurate and precise process, you can produce more parts with a wide range of materials. And the good news is that even if the molds are produced faster through rapid tooling, it can have the same quality as traditional molds but not expensive. It does not affect the strength, color, and surface finishing at all.
Product Consistency
Remember that it uses digital processes and using the same prototype or file can lower the chance of errors and inconsistencies. It speeds up the process even more and produces more products of the same.
You can have more process options with rapid tooling. And that is good news if you want to present more products to your customers. In rapid tooling, you can choose between low volume production for tens to hundreds of parts. Or the intermediate volume processing that can produce hundreds to thousands in quantities. Each has its own set of mold-making processes that enables you to have more options to choose from.
Lastly, It can help your business through bridge production. It refers to a method where you can create a product in small batches and release it to your market before going to full production. It is beneficial to your business because you can introduce the product earlier and gain profit from it before producing the rest.
If there are design flaws, you can correct them before going into mass production. You cannot fix the deficiencies once it is with your customers. Instead, it will create a wrong impression and will be costly for your business.

What's In Store for Rapid Tooling?
With rapid tooling opening new doors for options in developing parts and products, many companies are investing in technologies that will allow them to create products on demand. The days of conventional tooling are outnumbered with the efficiency and swift delivery of parts.
Because it has reached the domestic level, meaning people can now handle CNC machining tasks even in their garage. The end product has almost the same precision as big manufacturers and workshops.
If you can use these industry-grade materials for your projects, imagine the limitless possibilities it presents to individuals with knowledge and ideas on manufacturing methods. Rapid tooling has made prototyping more accessible.
Companies should not delay their rapid tooling initiatives, or else they will be left out by their competition. Today's issue is no longer about price and quality, as there are answers to that. What is more pressing is speed, as every industry is focused on delivering results faster. And rapid tooling can help them meet the requirements of the customers to gain a competitive edge.
Continue Reading

Die casting mold from CHT Die Casting and Machining utilizes aluminum and zinc alloys to produce small to large run part identical castings for your manufacturing needs. Die cast mold development is a versatile process that enables the production of a large quantity of small to medium-size castings.
Contact us for more information regarding die cast molds manufacturing processes or call us at 510-523-2541 and we will be happy to assist you with any questions that you may have regarding die cast molds and numerous die cast molds processes.
Die Cast Mold Manufacturing Processes
Die casting is a manufacturing process that is commonly used for producing accurately dimensioned, sharply defined, smooth, or textured surface metal parts. It is accomplished by forcing molten metal under high pressure into reusable metal dies. The die casting molds process follows the subsequent procedures regarding die cast mold manufacturing:
A mold is created in at least two sections to allow the proper removal of the casting.
The sections are mounted securely within the machine and are arranged so that one is stationary while the other is moveable.
The two are tightly clamped together.
Molten metal is injected into the die cavity where it quickly solidifies.
The die halves are drawn apart and the casting is ejected.
When compared with sand or permanent mold processes, HPDC (High Pressure Die Casting) is the fastest method in the industry for producing highly precise non-ferrous metal parts.

Die Cast Mold Benefits
There are numerous advantages regarding the usage of die casting (or HPDC) process. At CHT Die Casting, we can provide you with die cast molds that match your design specifications. Some of the advantages and disadvantages of the HPDC molds process include the following:
Die Casting Molds Advantages
Net shape part configuration is achievable
High dimensional accuracy is achievable
Fast production
Thinner walls are achievable when compared to investment and sand castings
Wide range of possible shapes
External threads can be casted
Steel inserts can be over-molded
Holes can be cored to internal tap drill size
Die Casting Molds Disadvantages
A relatively large production volume is required to make the process cost-effective. (However, CHT would work with customers ways to mitigate this shortcoming.)
High initial cost (tool, set up)
Minimum wall thickness: 0.040"
Maximum wall thickness: 0.200". In some cases, acceptable up to 0.50"
Draft radius and fillets required on the casting
Potential porosity issue
Die Cast Mold Material Options
CHT Die Casting and Machining offers to die casting dies for aluminum and zinc alloys: P-20, H-11, H-13, Premium Grade H13 (per NADCA No.229), Superior Grade H13 (per NADCA No. 229), or other grades as defined in NADCA No. 229. Additionally, CHT will guarantee 1 million shots tool life for tool making parts from zinc ZAMAK alloys and 100K shots tool life for tooling making parts from aluminum alloys.
Contact us for more information regarding our aluminum and zinc alloy die cast molds and die cast molds processes, or request a quote for further pricing details today. We are an industry-leading provider of advanced die casting and machining services.
Continue Reading

We are frequently asked how we manufacture injection mold, and more specifically how do we do it. To answer this, it helps to put our services into context. The cost and time required to produce traditional high-volume production injection mold tooling are a consequence of needing to maximize productivity and minimize per part costs for large production volumes. Very high volumes and high production rates dictate hardened steel tooling with full automation, multiple cavities, and advanced runner and cooling systems. Such tools are complex, time-consuming to produce and test, and even more difficult to modify once in operation. However, when the customer requires a few hundred injections molded components on a tight delivery schedule, and the rate of production is not required to be high, a completely different mold production approach can be employed.
Understanding customer requirements are the foundation for every successful injection mold project
From the very outset of every client engagement, we strive to understand the full context of the project we are producing molded components for, to be sure we are addressing the customer's primary needs, and are making the best decisions for the mold design. For example:
What is the end-use of the product?
What do the components we are molding do?
Will components be used for form, fit, function testing?
Is the project only a model for a coming trade show?
Are the components intended as end-use production parts?
How was the requested material chosen and what were the requirements?
Do the components need to have a high-quality surface finish or special texture?
Will the customer need 25 components in a few days or 250,000 over the next few months?
Understanding and acting on the answers to each of these questions are the foundation of a successful injection molding project.
Translating requirements into fast action
Once we have gathered the requisite contextual information, our engineering and design team initiate an extremely tightly managed process of converting requirements and 3D CAD data into a mold proposal. Even at this early stage, the project is already being managed by our proprietary design to assure efficient execution at every stage downstream. This is essential, in that it assures that everything quoted can be designed, machined, and molded efficiently to meet our very short delivery timelines. Mold design engineers take into consideration the specific characteristics of the molded polymer, the required production volume and rate, and the per-part cost objectives of the customer.
Form follows function when designing an injection mold
Even within the sub-category of prototype and low volume injection molding, there are many choices to be made on specifically how each mold is to function. In the case of very simple low volume components in a forgiving material, the mold would be a simple single cavity open and close design. When undercuts are required the designer will consider current and future production volumes to decide if the tool will be automated or include hand-loaded inserts for these features. The use of hand-loaded inserts reduces the cost and production time of the mold but generally increases the per-part cost due to the manual tending of the molding machine. Finally, in the case of complex geometries, including inserts and over-molded features in multiple materials, the full spectrum of design concepts will be deployed to balance product needs with cost and delivery time constraints.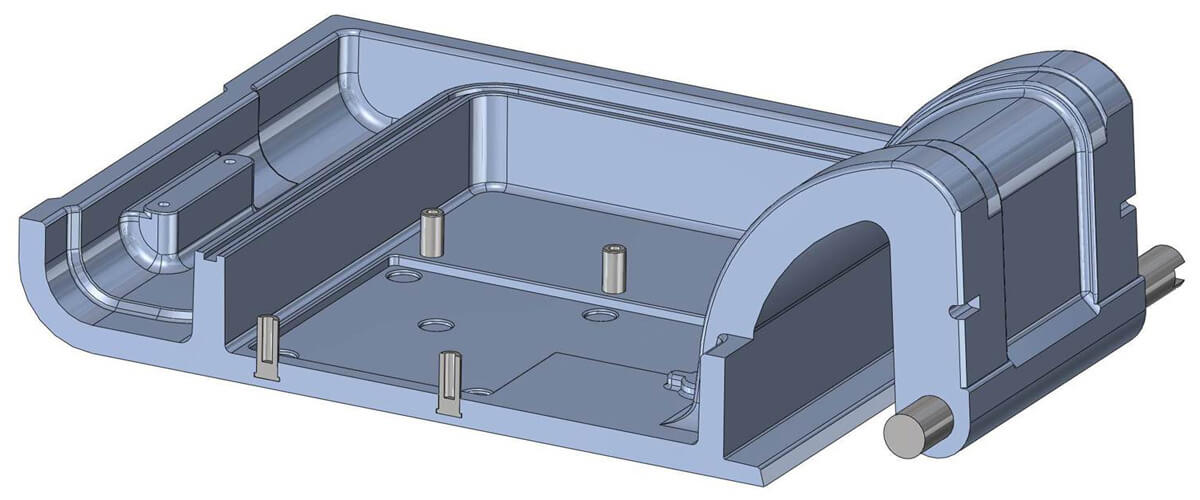 Design validation in electrons, not metal
Following initial mold design, our team performs mold flow analysis to reduce the likelihood of problems in the molding process. Depending on the complexity of the molded component, this can be a simple filling simulation all the way to complex warpage and shrinkage analysis, fiber orientation estimates for filled polymers, and other factors. Catching issues and collaborating closely with our clients at this stage to resolve potential problems leads to better products and higher on-time-delivery rates. Although we are quite nimble in rectifying problems that arise in the molding process, it is far easier and more efficient to do this when the mold is still in CAD and not in the press. Ultimately the completed mold design is reviewed with the client for approval prior to production.
Preparing for production
Once the mold design is complete, the process starts to really accelerate. The individual components of the mold (core, cavity, inserts, actions, ejector pins, etc.) are designated for their respective manufacturing process: CNC machining, EDM (electrical discharge machining), grinding, and manual machining.
The expert finishing touches complete the injection mold build process
Production of high-quality injection molds will always demand the personal attention of expert mold makers. At CHT we have a team of highly talented and hugely experienced mold makers who finish and test every mold to assure proper functioning of the mold and to achieve the desired surface finish of the molded components. This is part engineering and part artistry and cannot be rushed. So, all of the efficiency we build into the prior mold production steps assures that this team has enough time to do the mold finishing process properly. Naturally we do everything possible to maximize the mold surface finish quality coming out of CNC and EDM so that manual finishing or laser texturing is less difficult. Finally, the various components of the mold are all brought together in the assembly department where the functional mold is built up and tested prior to delivery to the molding department.
Continue Reading